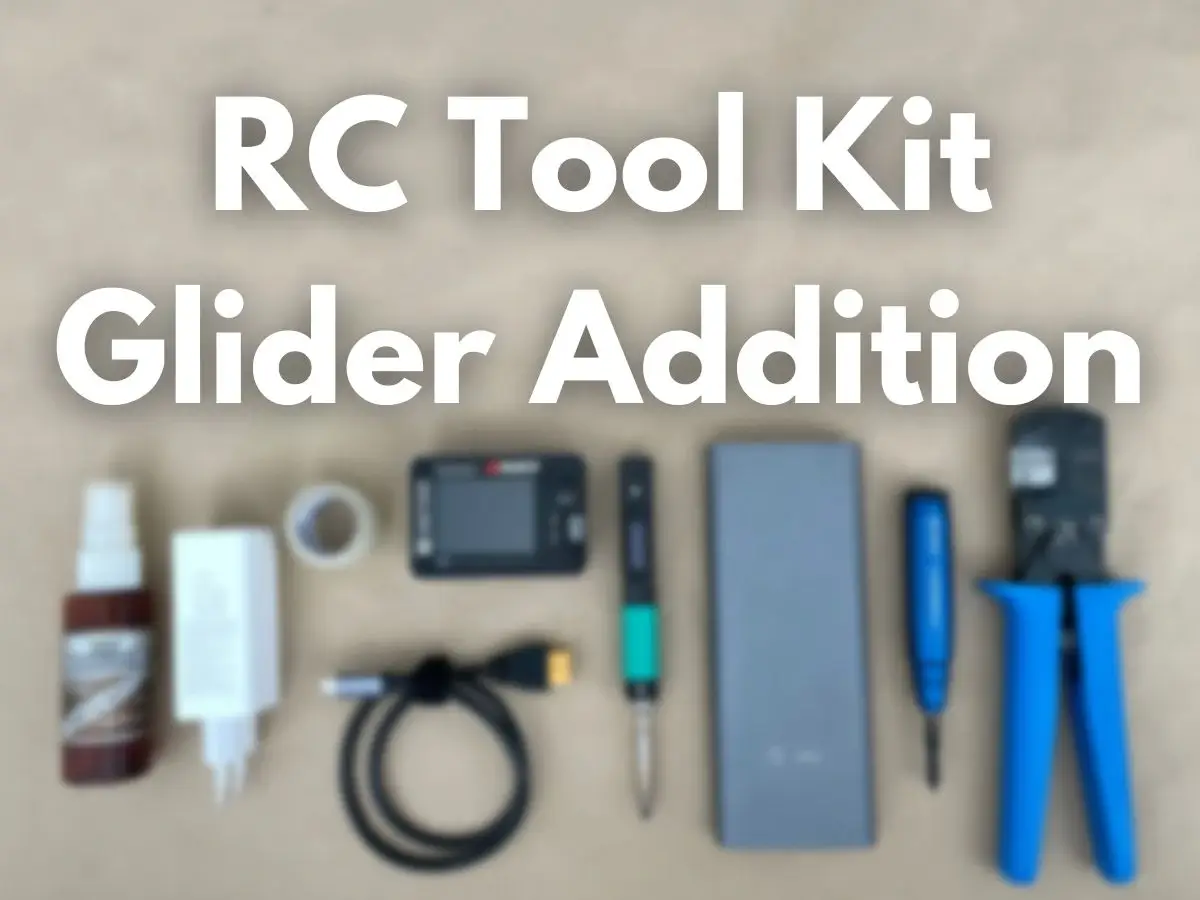 How does the regular day at an RC workshop starts?
You take all your tools and start building, right?
The right tools can make all the difference in the building process.
A sharp hobby knife is essential for cutting and shaping the materials, such as balsa wood and foam.
Adhesives, such as cyanoacrylate (super glue) and epoxy, are crucial for joining the parts together.
Additionally, sandpaper is necessary for smoothing out any rough edges and surfaces.
Electronic tools, like soldering irons and multimeters, are important for installing and testing the electronics in the glider.
A well-equipped RC tool kit can make the building process much more efficient and enjoyable.
So if you are building something from scratch or assembling an ARF kit, having the right toolkit can help ensure that your RC glider is built to last and perform well in the air.
So in this article, let's take a look at the ultimate RC Toolkit for every RC glider workshop.
Nice To Have In Every RC Tool Kit
Since every hobbyist understands the importance of a sharp hobby knife and a precision screwdriver, I'll leave my recommendations on these to the end.
You can check them out in the last section of this article.
Instead, let's start with the things you might be thinking about but haven't got yet.
Xiaomi Mi Precision Screwdriver Set (24bits)
A Hobby Cutting Mat
Master Airscrew Razor Plane & Spare Blades
Mute FPV Solder Practice Board
DuPont (BLS) Connector Crimp Tool
26-30AWG Silicon Servo Cable
DuPont (BLS, BLD) Connectors
Arduino Nano Board
A Kevlar Thread
RC Glider Repair Kit
In case you would ever need to repair a composite RC glider, first, you should have the skills to do so, and second, you will need the right materials to use.
Since RC gliders are lightweight and strong, there is a specific set of materials used in the construction.
The best way to get these materials for repair is to get them from a manufacturer.
So, if you'll ever need a spread carbon cloth or a Rohacel brick to repair your damaged wing, pick up an RC Glider Repair Kit early to have the materials in place.
Practical Electronic Devices
ToolkitRC M7 Multifunctional Charger
SC100 cable by Toolkit RC
Pinecil V2 Soldering Iron
Fine Digital Scale
Adhesives
CA Glue
CA glue, also known as cyanoacrylate glue, is a type of fast-drying and strong adhesive that is commonly used in RC glider building.
There are three main types of it: Thin, Medium, and Thick.
The main feature of a Thin CA is the ability to soak through the materials it's applied to. I.e. when you apply a good drop of a thin CA on the balsa wood, it will immediately disappear, as the wood will soak it.
This can be used when you need to deliver glue to places that are hard, or even impossible to reach. Say, gluing a T-peg into a wing of a DLG.
Medium CA is often used when you need the most accurate application, and have good control over the amount of glue to apply. This and any other type of CA is great for sticking different materials to each other, say:
Metal to wood
Wood to Carbon
Plastic to wood
Lastly, a thick CA is great for making fillets and sticking big parts together.
Recently, pilots started also using a CA glue to remove slops in their pushrod linkages as it doesn't stick to smooth and glossy surfaces. Like music wires or plastic servo arms.
A combination of CA glue can also remove slops on pushrod connections, so it's always good to have a tube both in a workshop and at the flying field.
A CA Kicker
An Epoxy Resin
Epoxy resin is another common adhesive used in RC glider building, known for its strong bonding properties.
For small tasks, like gluing the control horns or a firewall the 5-minute or 30-minute epoxy will do the job great!
However, in case you are into more complicated stuff like wing molding there is a bunch of various epoxy resin variations to fit your purpose.
A Goop Glue
A Masking Tape
3M Blenderm Tape
Mast-Have Essentials
Lastly, here are the basics that literally every hobbyist should have in their RC tool kit.
Final Thoughts
To sum up, all these are just a fraction of the tools, devices, and supplies that you can have in your workshop.
Experiment, choose what you like the most and please, share your favorite items in the comments to this article.
Happy building and see ya at the field!