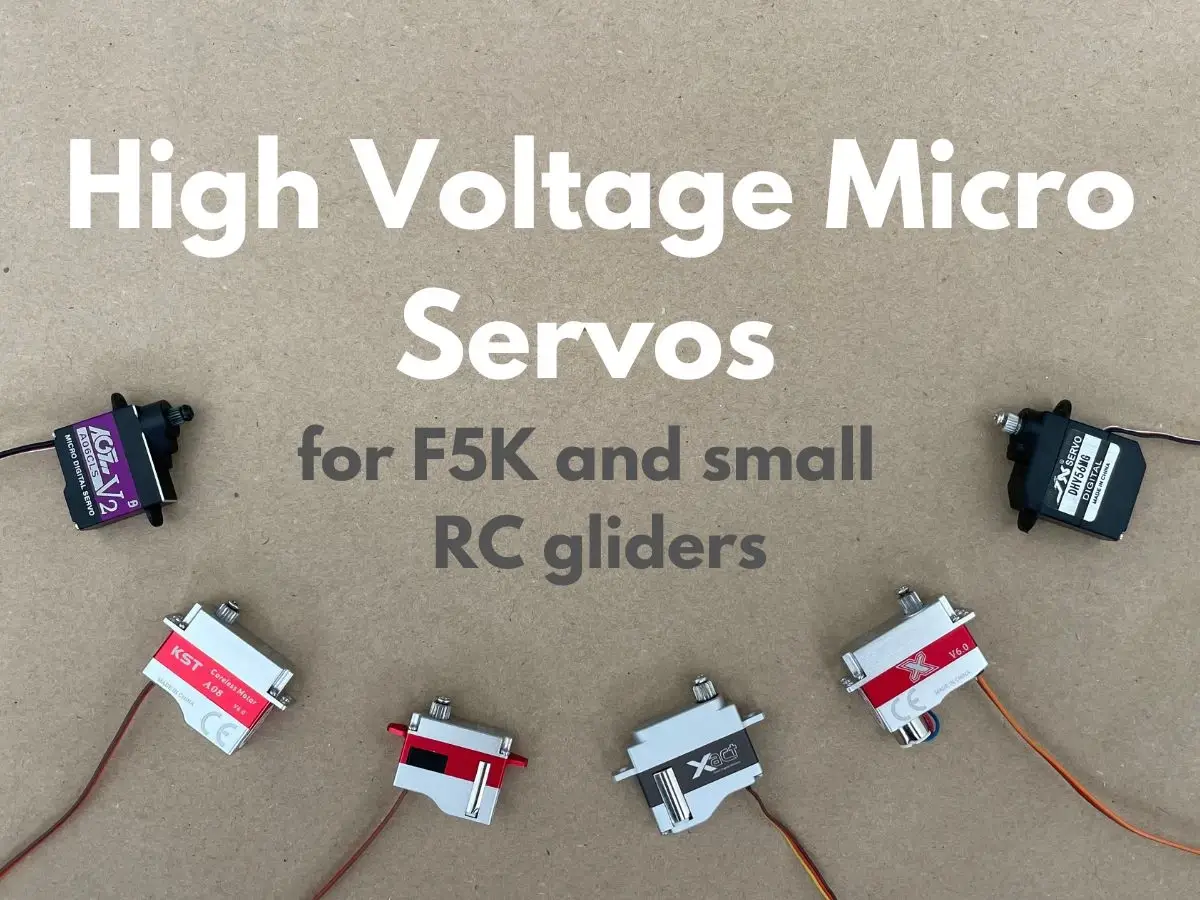 Some time ago, we tested a bunch of micro servos at 3.7v and combined the results on our blog.
These are often used in DLG gliders as 1S LiPo is one of the most convenient power setups that can be used in a small glider.
However, with the rise of 1.5m RC electric gliders which compete in the F5K class, the powertrain options have changed the options for the batteries used in them.
Usually, these gliders use 2S or 3S LiPo batteries. And if the 3S option should be used with the BEC to power the servos, 2S, on the opposite can power some servos directly.
This may eliminate the need for a BEC, and simplify the whole gear setup for an F5K glider.
If you prefer to use BEC though, check this article for the good servo options.
But in this article, we'll have a closer look at the High Voltage Servos, that can run on 2S LiPo directly, or are capable of handling 8.4V of power.
Lets's dive in!
This article is work-in-progress and we constantly update it. If that's the second time you seeing it in the last few months, the chances are we have added new chapters here.
TLDR: The Best High Voltage Servo For F5K
Why Only Digital Servos?
Sort of as a side note, all the servos in this test are digital.
Not to say that I'm a pure fan of these types of servos, but considering what the market has to offer, all high voltage servos here are digital.
On the one hand, it adds to the precision of these, on the other, it may drain your batteries a little quicker.
But in real life, you will be getting a tone of fun flying your gliders with either digital or analog servos 😉
KST X08 V6
First of all, let's start with the industry-standard – KST servos that have become one of the most popular options that are widely used in DLGs and electric gliders.
KST X08 is a small 8g servo, with great torque, smooth movement, robust metal gear, and high-quality components.
This servo is working great at 3.7V and also can handle 8.4V with an expectedly better performance.
Specs:
Weight: 8g
Total Height w/ arm: 27mm
Thickness: 8mm
Centering: 5/5
Average price: $42 USD
KST A08 V6 [Programmable]
A08 is an evolution of the X08 servo by KST with an updated motor, gear, rebuilt casing, and some basic programmable features.
This servo is also working in a wide voltage range including 8.4V.
Featuring a slightly reduced total height and revised casing with a fully enclosed motor, A08 is also programmable.
With a help of KST Tool #1, you will be able to set endpoint, rotation direction and some other basic parameters.
Of course, all these in addition to an unbeatable KST performance!
Specs:
Weight: 7g
Total Height w/ arm: 23mm
Thickness: 8mm
Centering: 5/5
Average price: $45 USD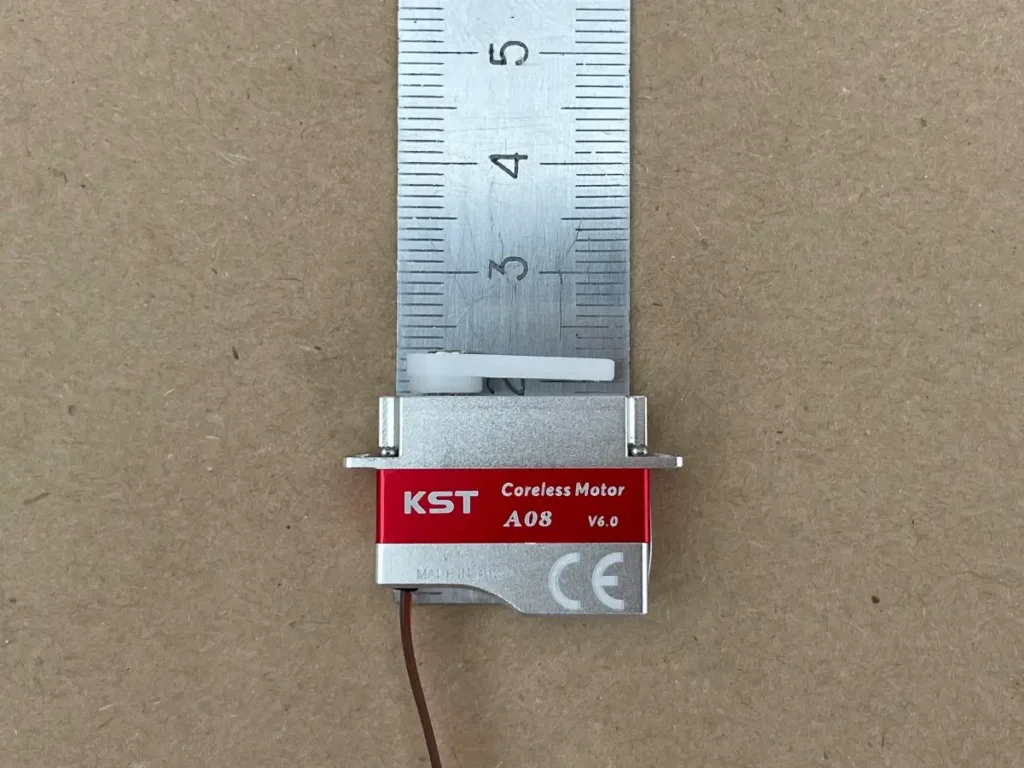 AGFRC A06CLS V2 [Programmable]
AGFRC A06CLS V2 servo wasn't on my radar before I started putting this post together. But I've noticed the announcement and couldn't stand from including it.
It is a metal cased, metal gear, wide voltage range digital servo, and it's small enough to be considered for F5K gliders.
Moreover, it is programmable with an AGFRC USB programming device. You can set the rotation direction, endpoints, and some more parameters which makes servo installation and model setup easier, esp in the tiny glider fuselage.
It features a "traditional" form factor with a gear casing sticking on top, right below the control horns, which brings us to a slightly increased total height.
However, it doesn't take from the performance, with is outstanding.
The servo is smooth, precise, and extra fast at 8.4V!
Check it out!
Specs:
Weight: 7g
Total Height w/ arm: 28mm
Thickness: 8mm
Centering: 5/5
Average price: $62 USD
KST X06 V6
If, by chance, you need something smaller than the X08 by KST, there is another option – X06.
This servo is super tiny, has metal gear and casing, a digital chip, and great performance packed in a single enclosure.
Same as the other servos in this test, it works great at 1S and even better at 2S LiPo.
Specs:
Weight: 6g
Total Height w/ arm: 21mm
Thickness: 7mm
Centering: 5/5
Average price: $40 USD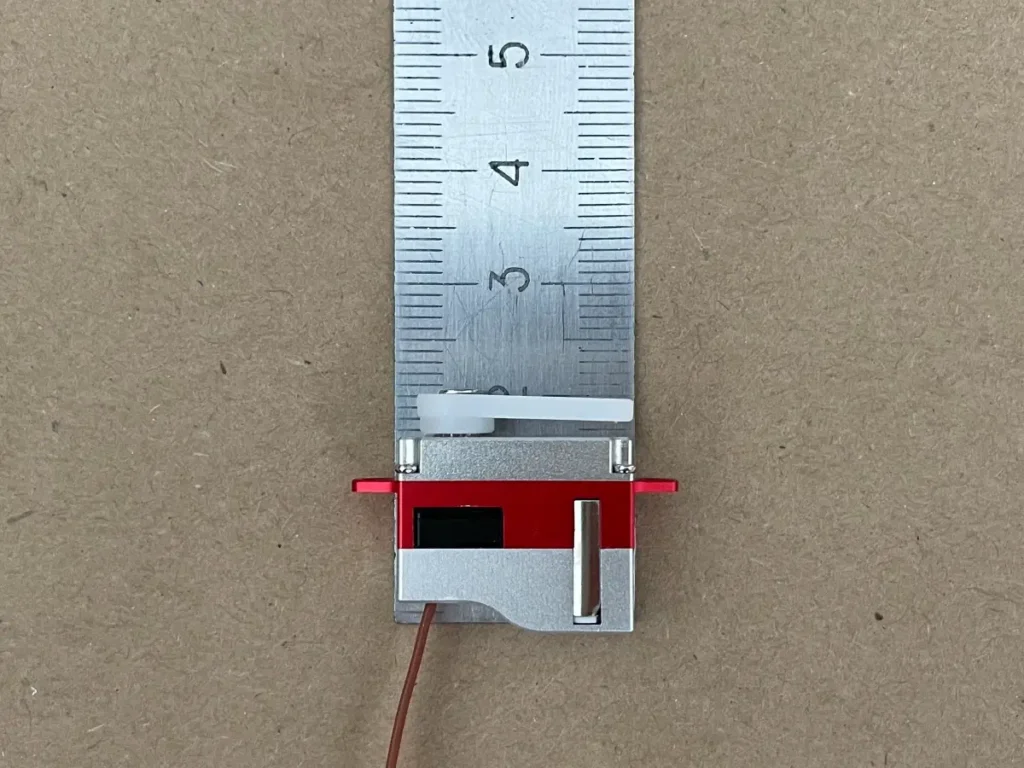 Turnigy D56MG
Hobbyking was always a source of decent RC components.
Turnigy D56MG is one of the good represented of these. It can be considered as a budget servo, which, though has some decent specs.
It has high torque and is small enough to fit into the tiny fuses, like Hawk, or in the slim wings like Maverick Electric Glider.
So, it brings us to a great option for F5K.
And its performance for the price is unbeatable!!!
Specs:
Weight: 5.6g
Total Height w/ arm: 29mm
Thickness: 8.2mm
Centering: 4/5
Average price: $8 USD
JX DPI DHV56MG
In my opinion, JX DPI DHV56MG is a 100% copy of Turnigy D56MG.
So the pros and cons of these are completely the same and if you need a servo like this, you can choose either of the options.
Specs:
Weight: 5.6g
Total Height w/ arm: 29mm
Thickness: 8.2mm
Centering: 4/5
Average price: $8 USD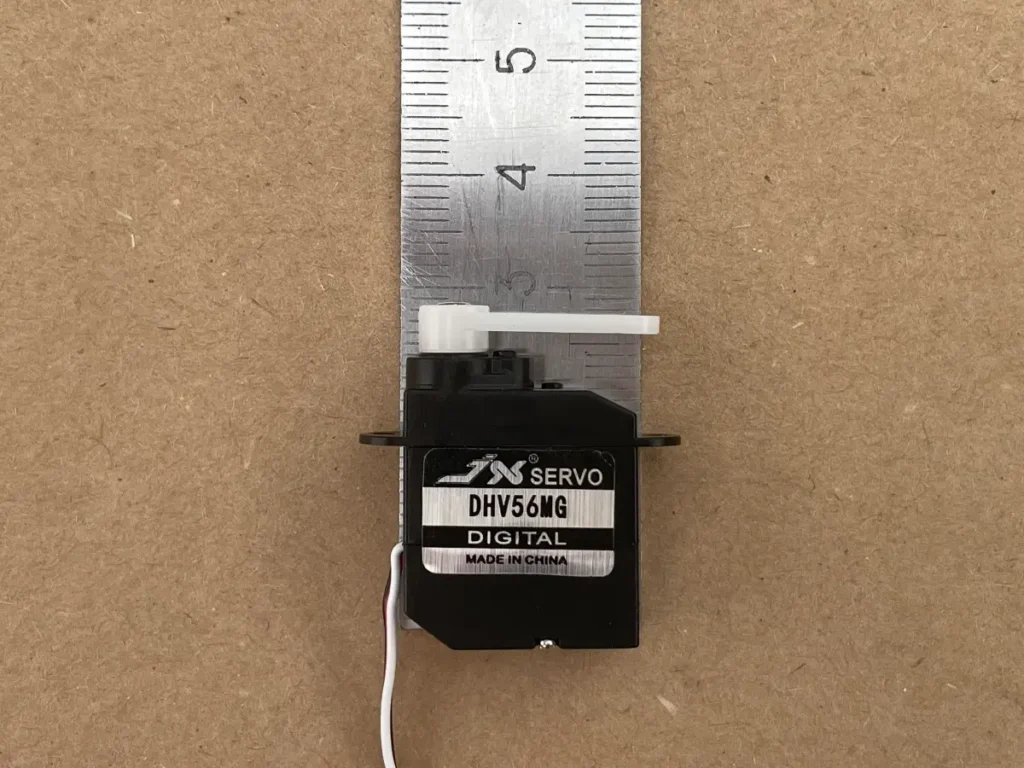 FrSky H5701 [Programmable]
Information will be added once the tests will be completed.
Specs:
Weight: 6.5g
Total Height w/ arm: 25mm
Thickness: 6mm
Centering: 5/5
Average price: $45 USD